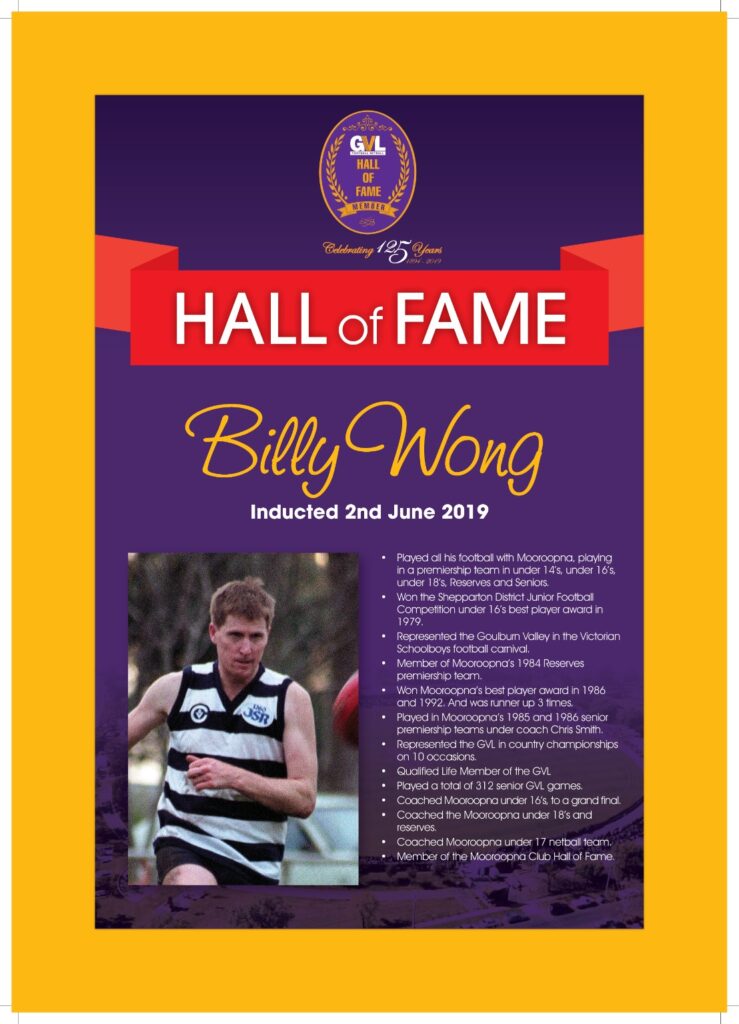 Success as a junior player is often an indication of future senior success and so it was for Mooroopna's Billy Wong.
Coming from a Mooroopna sporting family, Billy was the son of John "Tangles" Wong a long time Mooroopna identity and former Mooroopna footballer. It was not surprising that the lively youngster made his presence felt when he joined the Mooroopna juniors. He was lucky to have grown up with a group of quality team mates and became a member of a Mooroopna premiership team in every grade he played. Under 14's, under 16's, under 18's, Reserves and Seniors. In 1979 Billy won the Best player medal in the under Shepparton under 16's competition.
As a classy junior he was selected in the Goulburn Valley Schoolboys team to play in the state carnival in Melbourne.
After playing 52 games in the 3rd eighteen. Whilst playing 3rds He made his senior debut with his beloved Cats senior team in 1982. Billy moved up to play a number of games in the reserves and was a member of their 1984 premiership. He then settled into the seniors and cemented himself as a star member of Mooroopna for many years to come.
Bill responded well to Chris Smith's coaching and found himself as a member of the Mooroopna premiership teams in 1985 and 86. In later years, he would reflect on how lucky he was to play a role in 2 of Mooroopna's 11 premierships in the history of the club.
Billy's coach Chris Smith well remembers the important role Billy had with the cats. Chris says of Billy, "He was hard at the ball, a great team player and a dream to coach".
Billy won the Cat's best player award in the premiership year of 1986 and again in 1992. He was also runner up 3 times.
The GVL selectors were impressed with Bill's ability and selected him to represent the GVL in Country Championship matches on 10 occasions. He gave his all for the League and played well.
GVL coaches were delighted to have a player who could be used in a variety of positions and would love playing for the League.
Billy Wong was Mooroopna through and through and played his whole career in a Cats jumper. He became a GVL qualified Life Member on reaching 200 senior games and continued on to play a total of 312 games before retiring.
Bill was not only a wonderful player for Mooroopna, but showed his loyalty by taking on a coaching role and coached the Mooroopna under 16s to a grand final. He also coached the 3rds for 3 seasons and the Reserves for 1 year.
In later years he coached the Mooroopna under 17 Netball team for 2 years.
It was no surprise to see Billy become a member of the Mooroopna Club's Hall of Fame.
The GVL welcomes Billy Wong to join Mooroopna's Ray Willett, Gary Cooper and Dowie Bux and become the 4th Mooroopna Cat to be inducted into the GVL Hall of Fame.