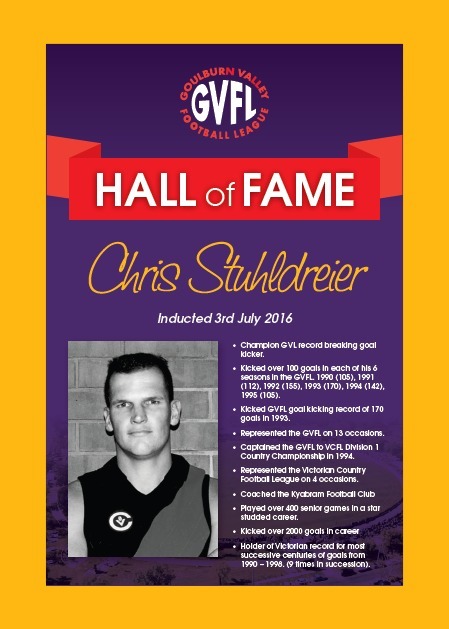 Our next inductee exploded on to the GVFL scene when he arrived in the Goulburn Valley as a police officer in 1990, and was recruited by the Kyabram Football Club as an assistant coach. The name of Chris Stuhldreier would be indelibly etched into GVFL goal kicking history as he used his wonderful talent and athletic ability to kick goals and make a name for himself as a top quality sharp shooter.
Chris had played junior football at Sunshine and was recruited to the Footscray under 19's. Unfortunately injury and illness sidelined him from playing football for 18 months. Following his recovery he played in the Footscray District League until his Police transfer to the Goulburn Valley when he soon showed that Kyabram had recruited a special player. He was tall and athletic and came under notice by regularly kicking high totals of goals. He kicked 105 goals in his first season and was selected to represent the league at full forward. He loved the opportunity to play championship football and became one of the most prominent players in country Victoria. .
In his second year he kicked 112 goals which was to be a pointer to his 1993 season when he broke the GVFL goal kicking record with 170 goals. He was also Vice Captain of the GVFL and was selected at full forward in the Victorian Country Football League team. He was the winner of the Kyabram best player award and runner up in the Morrison Medal. The "Bombers" won twenty games in succession that season, but were defeated in the preliminary final. Chris had become a star player and a great worry to full backs who dreaded the day when they would have to play on him.
In 1994 Chris became the coach of the Kyabram Bombers and again they made it to the preliminary final. However the highlight of the year was as Captain of the GVFL championship team the GVFL won the Centenary year Division one Vic Health Championship. To top it off he also kicked 142 goals for the bombers. The GVFL was overjoyed that Chris relished playing for the League and took on the responsibility of Captain, showing great leadership.
1995 saw injury interrupt his season as he missed 8 games with a broken ankle. However he still managed to captain the GVL and kicked 105 goals.
In 1996 he moved on to the Ovens and Murray League for 4 years, where he once again kicked hundreds of goals and gained interleague honours. He concluded his playing career with Bacchus Marsh and then moved into junior coaching with success.
Chris Stuhldreier will long be remembered for his time as a true champion goal kicker in the GVL along with his commitment to his League and the game. He holds the Victorian record of a century of goals in nine successive seasons. No player has been able to emulate his goal kicking ability as his goal kicking record in the GVLwill stand for many more years. We welcome goal kicking legend Chris Stuhldreier to the Goulburn Valley Football League Hall of Fame.