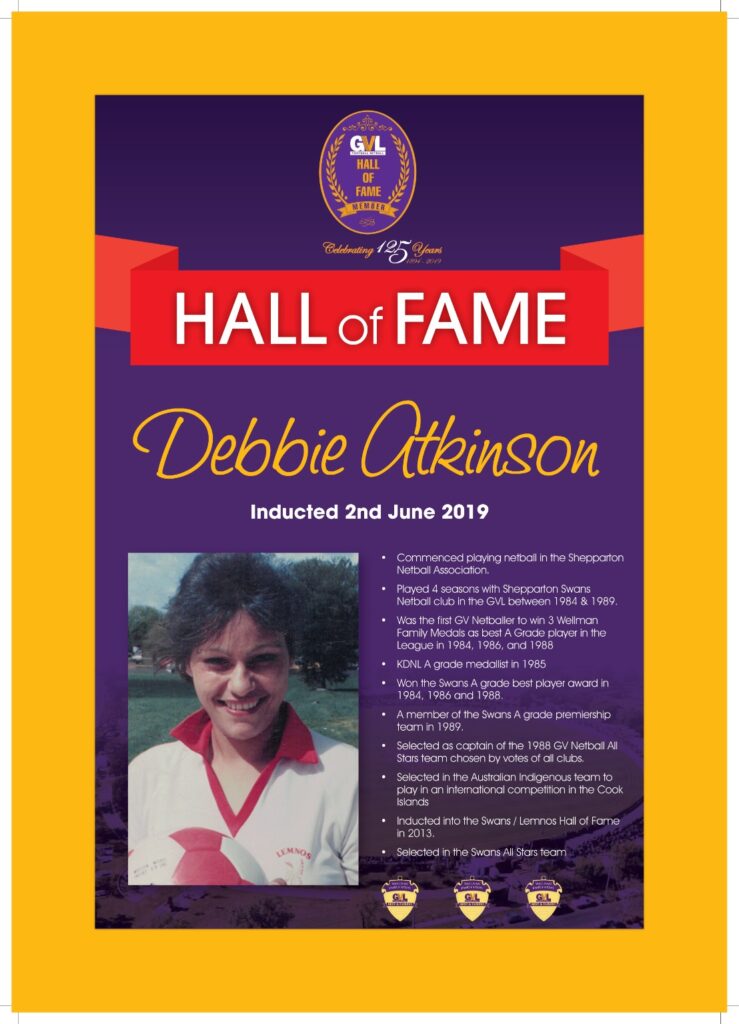 The Goulburn Valley League commenced a Netball competition in 1983 and one of the early coaches and administrators of Netball, Gaye Eaton has been inducted into the GV Hall of Fame. Gaye won three Wellman medals as best A Grade player.
Tonight we will induct another triple Wellman medallist into the Hall who was the first player to win three best player awards.
Debbie Atkinson became a sensation when she burst onto the scene as a Shepparton Swans player in the second year of the competition1984. Debbie had played her junior netball in the Shepparton Netball Association and the Swans were aware of her talent and recruited her to play in the GV competition. Debbie was just what the Swans needed as she showed her talents in attack and as a goal shooter and helped to put winning scores on the board for the red and white colours. 
From her first game, the umpires were very impressed with Debbie's performance. She amassed 39 votes to win the Wellman family medal as best player in the League. It was a triumph for the Swans, Debbie also won the Swans best player award in a preview of what was to follow.
However Debbie chose to play with her friends at Ardmona the next year, where she won the KDL Netball medal.
She returned to the Swans in 1986 and won her second Swans best player award and her second Wellman medal.
1987 saw Debbie coaching and playing with the Wunghnu Netball team in the Picola League.
Debbie was chosen in the Australian indigenous Netball team and played in an international competition in the Cook Islands.
She returned for a third season with the Swans in 1988 where once again, she was successful in winning her third Wellman Family medal as she helped the Swans team become runner up in A Grade and won the Swans best player trophy again. Debbie was also selected in the GVNL "All Stars" team, voted by all clubs.
Debbie spent her final season with the Swans in a wonderful culmination of her 78 games in red and white, celebrating the 1989 A Grade premiership.
It was not surprising that Debbie was inducted into the Swans Hall of Fame in 2013.
Debbie is still involved with Netball, as the mother of 5 netballers who are all goal shooters, she keeps busy helping them compete in the sport.
The Goulburn Valley League now recognises Debbie Atkinson's performance and welcomes her as the second netballer to be inducted as member of the GVL Hall of Fame.