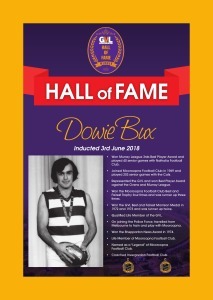 The Mooroopna Football Club provided GVL football fans with the opportunity to watch a wonderful player with blistering pace and spectacular ability when the Cats introduced their recruit from Nathalia, Dowie Bux.
Dowie had grown up in Nathalia and played through the junior ranks. He was captain of the Nathalia 3rds, won the Murray League 3rds Best player award and played in two 3rds premierships. He was elevated into the senior team where he played 40 senior games.
It was at that time that he came under the man that Dowie says was his most influential coach during his career, in Barry Connolly who Dowie will join as a Hall of Fame member tonight. Barry encouraged Dowie and was high in his praise for Dowie's class and ability.
It was not surprising that GV Clubs were soon after the Nathalia speedster and it was the Mooroopna Cats that were successful in enticing him to the League under Jim Reid's coaching.
Dowie was a thorough gentleman, mild mannered and a completely fair player who used his pace to keep out of trouble as he kicked the ball downfield with great direction.
Dowie played a total of 203 games with the Cats, he won four Mooroopna best player awards and was runner up three times.
It wasn't long before the umpires were picking him out in the best player voting and in 1972 he won his first Morrison Medal as the GVL's best player. This was an incredible performance as he had missed six games during that season whilst he played with the Geelong Reserves on Match permit. He then followed it up the next year as the 1973 Medallist.
Dowie had arrived in true champion status and the GVL fans marvelled at his ability and enjoyed watching him play.
He was selected in the GVL Country Championship team and in a game against the dreaded foe the Ovens and Murray League at Wangaratta Dowie completely controlled the wing all day and was voted best afield even though the GVL lost the game. It was a wonderful performance – not to be forgotten by those who witnessed the game.
In 1975 Dowie joined the Victorian Police Force and was stationed at Russell Street in the City for 2.5 years. Yet he still made time to return to the GV to turn out for the Cats. He would leave Melbourne on Thursday afternoon and drive to Mooroopna to train.
After training and a meal he would return to Melbourne to do a day's work on Friday then drive back to play with the Cats on the Saturday. That was Dowie Bux's dedication for you. In 1977 he transferred to the Shepparton Police Station to work and continued to star in the GVL.
He left the Cats for the 1979 and 1980 seasons when he coached Invergordon in the Tungamah League.
He returned to Mooroopna in 1981 and became a GVL Qualified Life Member when he played his 200th GVL game.
As well as winning two Morrison Medals he was runner up in the award on two occasions. He also won the Shepparton News award in 1978.
Dowie had conquered some great opponents during his career and his football philosophy was "Never under estimate your opponent".
Dowie completed his football career at Mooroopna in 1981 as a player who was never reported. He was honoured with Life membership and Legend status with Mooroopna. He transferred to the CIB in Melbourne where he stayed for the duration of his police career.
So tonight we recognise Dowie Bux's contribution to the game and welcome Mooroopna's much loved son into the GVL Hall of Fame.