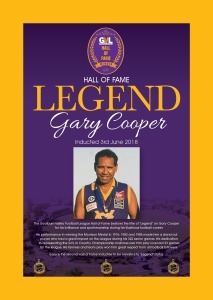 When a young footballer named Gary Cooper came out of Tatura thirds and broke into the Tatura senior team in the early 1970's, GVL fans took notice.
GVL old timers said "we've seen the likes of this lad before" Gary was the son of former star Kyabram player John Cooper and the nephew of Kyabram's duel Morrison Medallist Jeff Cooper who won his medals in 1958 and 1961.
It wasn't long before everyone recognised that another Cooper "star" had arrived and was destined to become one of the best country footballers to play the game.
Gary was a natural rover who had great pace and fabulous talent.
In 1976 he won his first Morrison Medal as a Tatura player and was then runner up in 1977 and 1978.
When the Winfield Country Football Championships commenced in 1978, Gary Cooper was the first player selected and roved brilliantly. He was best player in the GVL's historic win over the Hampden League to become Victorian Country Champions.
His performance was noted by Western Victorian and South Australian clubs. He was hotly sought after and eventually in 1980 was recruited to play in Mount Gambier.  
After two years with the South Australian club he returned to the Goulburn Valley to play with Shepparton United in 1982 as assistant coach to Des Campbell. Gary had lost none of his brilliance and continued to thrill the fans with his consistency and wonderful skills.
Gary was recruited by Mooroopna coach Graeme Kendall in 1983 and it was with the cats that he won his second Morrison Medal the same year.
He continued on as one of the best players in the League and relished playing under new Mooroopna Coach Chris Smith.
In 1985 Gary had the honour of winning his third Morrison Medal as well as playing in a Mooroopna premiership team when he kicked 4 goals to ensure the Cats won the flag. He also played in the Cats 1986 premiership, kicking 3 goals in a best afield performance.
Gary was often referred to as Mr Magic as he flashed around the ground giving a magical performance. He was a great crowd puller as fans flocked to see the mercurial rover perform. Late in his playing days he had a stint as Mooroopna coach. For some time he was the GVL games record holder as he chalked up 322 games in the League. He does however hold the record of the number of games representing the GVL with 23 games.
Following his GVL days he had some time as assistant coach at Shepparton East and has had minor coaching roles at Tatura, Violet Town and Rumbalara.
The thousands of fans who saw him play will always remember his mercurial ability. Those who have known him personally will remember his quiet nature, his great smile and his great love for his children and his wife Christine who have given him wonderful support.
Gary Cooper has been Mr Consistency during his playing days. His three Morrison Medals were well earned, as was his induction into the GVL Hall of fame
The Hall of Fame Committee has great pleasure in elevating Gary Cooper to the exalted position of "Legend" Gary joins Robbie Orrman as one of the true "greats" of the League. Would you please join me in congratulating the second Legend of GVL football, Gary Cooper.