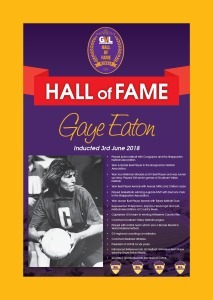 Following the official amalgamation of the GV Football League with the Netball Association, netball players and administrators became eligible to be included in the GVL Hall of Fame.
Tonight we induct the first Netballer into the Hall as we welcome Tatura's Gaye Eaton to receive the honour of joining 28 men as a GVL Hall of Famer.
Gaye has had wonderful success as a player and has made a magnificent contribution to Netball in all aspects of the game.
Gaye commenced her Netball as an eight year old with Congupna, and on her families move into Shepparton became a part of the Shepparton Netball Association. Her skills were obvious and she was soon being selected in Association teams. By 1973 Gaye had won the A Grade Best and Fairest award as a goal attack. In the same year she was a part of the first Shepparton A Reserve team to win a Country Week title.
In 1974 Gaye married Daryl Eaton and they were soon off to Dartmouth where Daryl was involved in the construction of a new dam. Gaye naturally found time to play Netball and every Tuesday evening travelled the 1.5 hours to Wodonga to play in their night competition. She won the A Grade Best and Fairest with the Mitta United Club. On Sundays she played with Tallangatta and was required to travel up to 2 hours for some games.
After five years at Dartmouth and the arrival of son Ben, there was a move to Gippsland where Gaye played mostly Basketball. Then it was on to Seymour where Gaye took up playing Netball with Avenel in the KDL and won the local Best player award along with the runner up in the KDL B Grade award after playing only six games. After the birth of son Mark it was back to A Grade Netball with Avenel a well as Basketball with Seymour's winning Country Week team.
The next shift took the family to Wodonga where Gaye concentrated on Basketball to help the locals win another Country Week title.
Netball returned to her life in 1985/86 season as coach and player with the Chiltern Football Netball Club in the Ovens and King League and picked up the club A Grade Best Player award and the League Best and Fairest medal.
It was the next move however that cemented Gaye as a star player and coach when the family moved to Tatura and Gaye joined the Tatura Football/Netball Club as playing Coach. Gaye took over the Centre position with the Bulldogs in 1989 and the rest is history.
Gaye immediately showed that a true champion had arrived for Tatura and she gave her all to the sport she loved as a player, coach and administrator. Her record is amazing in the GV, she has won 4 Wellman Medals as Best Player in the League and was runner up twice. Eleven times she has won the Tatura A Grade Best player award and was runner up once. She was a member of 5 Tatura A Grade Netball premierships as either Captain or Captain/Coach.  
Gaye loved representing the Associations she played in and has been a country week representative for Shepparton, Seymour, Wodonga, and Goulburn Valley (including captain of the GV A Reserve winning team in 1992). She also coached the GV Netball League team in 1994 and was in the GVL World Masters representative bronze medal winning team in 2002.
In total Gaye played 338 games of GVL Netball.
Gaye has also used her athletic talents to help those who are less fortunate. She supported physically disabled athletes, coached wheelchair basketball teams and gave individual coaching in tennis, badminton and golf. Gaye received great satisfaction in seeing those people achieve their sporting goals.
It was not surprising to see Gaye take on the role of coaching co-ordinator with the GV and the region.
From 1993 to '97 Gaye was the Senior Vice President of the GV Netball Association and President from 2000 – 2006.
Gaye was responsible for the introduction of the B Reserve Grade in 2003 and the Best and fairest award for B Reserve is called the Gaye Eaton medal. She became a qualified Life Member of GV Netball on playing her 200th game in 1998 and was honoured with Life Membership of the GVFNL in 2007.
When Netball officially became a part of the GVL, the Hall of Fame Committee had no hesitation in selecting this wonderful player, coach, co-ordinator, lover of Netball and all round great person as the first Netballer to be inducted into the GVL Hall of Fame. Would you please pay tribute to Gaye Eaton as she comes forward to receive her award.