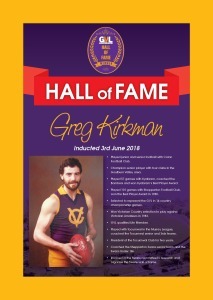 The Goulburn Valley League has been well served by the teaching fraternity over the years. Many clubs have benefited greatly by the addition of quality footballers who have been appointed to local schools. Some of those are already members of the Hall of Fame.
We now induct another former teacher to the ranks of the Hall of fame who transferred in from Colac and made a wonderful contribution to four football clubs in the area in a variety of roles.
Greg Kirkman burst on to the GV scene in 1976 as a young Kyabram player who had played all his junior football and early years of senior football at Colac. He immediately showed his class as a fast moving versatile back man who fitted brilliantly into the Kyabram team which was loaded with fellow teachers.
Greg spent three years with the Bombers and won their Best Player award in his second year. His third year saw him as senior coach of Kyabram at 22 years of age.
After playing 57 games with the Bombers Greg shifted to Shepparton and turned out with the Shepparton Club which was coached by great local coach and Hall of Fame member Rowland Crosby who became a good friend. His good form continued with Shepparton and he won the clubs best player award in 1980. However the Shepparton team lost the grand final in both 1979 and 1980.
The GVL selectors were very impressed with Kirman's ability and he became a natural selection in the interleague teams.
Greg loved Country Championship football. He enjoyed the friendship of the players from different clubs and relished the higher grade of football. He threw everything into the GVL team and was selected to play 14 games for the League over his career. Greg was a most popular player and says that those times he wore a GVL jumper were a highlight of his football career
His form was such in 1983 that Greg won selection to represent Country Victoria in the VCFL Vs Victorian Amateurs game.
After he had played 101 games with Shepparton he moved to the Shepparton Swans as assistant coach to Tom Connors in 1984. He unfortunately injured his knee and missed playing in the finals. Greg had 4 seasons with the Swans, playing 50 games and coached the team in 1986 and 1987. He became a qualified Life member of the GVL after reaching 200 League games.
In 1988 he moved to take up a business opportunity in Tocumwal and played with the Murray League club for two seasons, losing both Grand Finals.
Then it was back to the Swans as coach for two seasons even though he travelled from Tocumwal whilst coaching the Princess Park Club.
As travelling became a problem he returned to Tocumwal as coach of the seniors for two years and then spent two years as coach of the Tocumwal 3rds.
The Tocumwal Club was in need of direction, so Greg took on the presidency for two seasons to help the Club out.
On his return to Shepparton in 2004 he coached the Swans under 18 team for two years and then to complete his active football role, he acted as Assistant coach for the senior team for two years.
He continued to support the Swans off the field and became involved with the Swans committee which researched their history and instituted a very successful Swans Hall of Fame.
With Greg Kirkman, you had the complete football package. A great player who coached all three grades of football, a dedicated country championship player, a Victorian Country representative and off the field helped out with administration at club level. What a wonderful football supporter.
It is with great pleasure that we welcome Greg Kirkman into the membership of the GVL Hall of Fame.