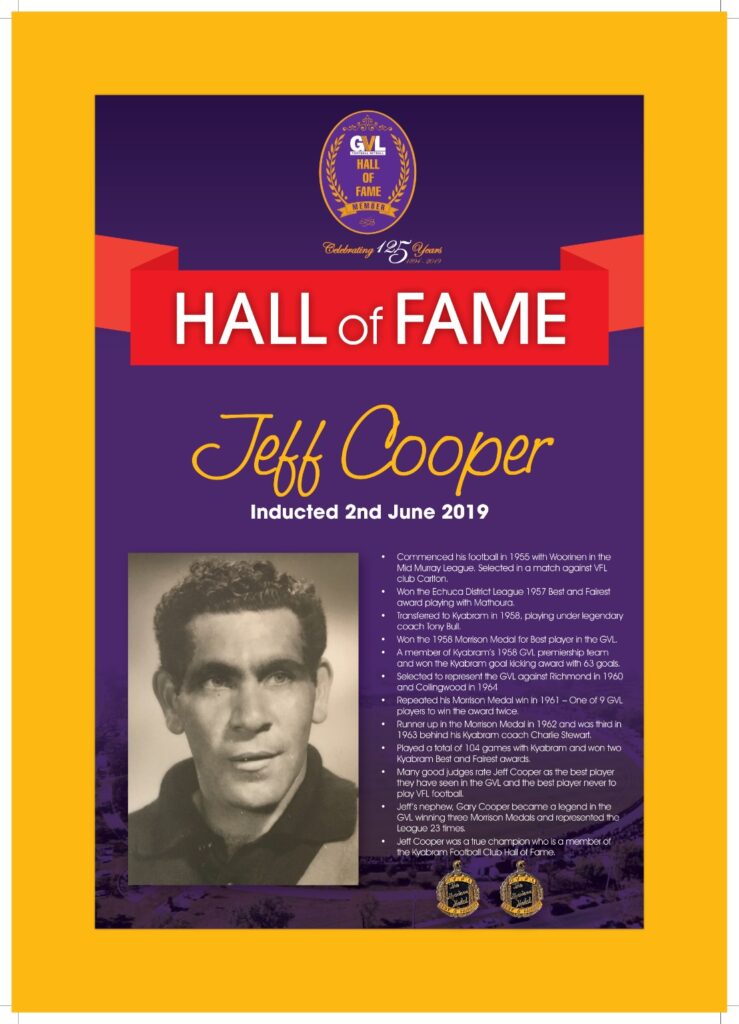 The name Cooper has been prominent in GVL football for many years.
Gary Cooper is one of the two Legends in the GVL. He won three Morrison Medals and represented the League on 23 occasions.
When Garry arrived in GVL football his surname was already well known.
Gary's father John was a top player for Kyabram in the 1950's
His uncle, the late Jeff Cooper was an absolute champion and tonight we will induct Jeff into the Hall of Fame.
Many Kyabram supporters and GVL fans with long memories still rate Jeff as the classiest footballers to play with the bombers. He had an amazing impact during his time with Kyabram in the late 50's and early 60's.
Those privileged enough to be around then to watch him weave his magic, still talk about his feats today.
Jeff's football career commenced in 1955 in the Mid Murray League, with Woorinen where he played his first senior game as a 16 year old.
He was immediately seen as a future star and the next year was selected to represent the League against the Carlton team.
In 1957 he transferred to play with Mathoura in the Echuca District League and won the League's Best and Fairest award.
In 1958 Jeff found himself at Kyabram playing with the bombers under legendary coach Tony Bull and became an instant sensation in GVL football.
Whilst Jeff was a small player he was powerful with relentless running power, speed and reflexes. He was a player well ahead of his years and the game as it was played in those days.
Coaches in today's frenetic style of football would have loved the way he ran through the lines, dodging, mesmerising and frustrating opponents with his scorching pace and uncanny ball skills.
Umpires in the GVL appreciated his electrifying style of play and in his first season at Kyabram in 1958 he won the League's top individual award the Morrison Medal and was Kyabram's leading goal kicker with 63 goals.
He was also a member of Kyabram's premiership team that season. The GVL selectors loved Jeff and selected him to represent the League in two games against VFL clubs, Richmond in 1960 and Collingwood in 1962.
Jeff repeated his Morrison Medal win in the 61 season and is one of 9 GVL players to win the award twice. He was also runner up in the Morrison Medal in 1962, third in 1963 to his Kyabram coach Charlie Stewart and 4th in 1964 his last year at Kyabram before returning to his original club Woorinen.
Jeff played a total of 104 games with Kyabram where he won 2 best and fairest awards.
Many good judges still rate Jeff Cooper amongst the best players never to play VFL or AFL football.
Jeff Cooper was a star of the game and his name will live on as he is inducted into the GVL Hall of Fame.