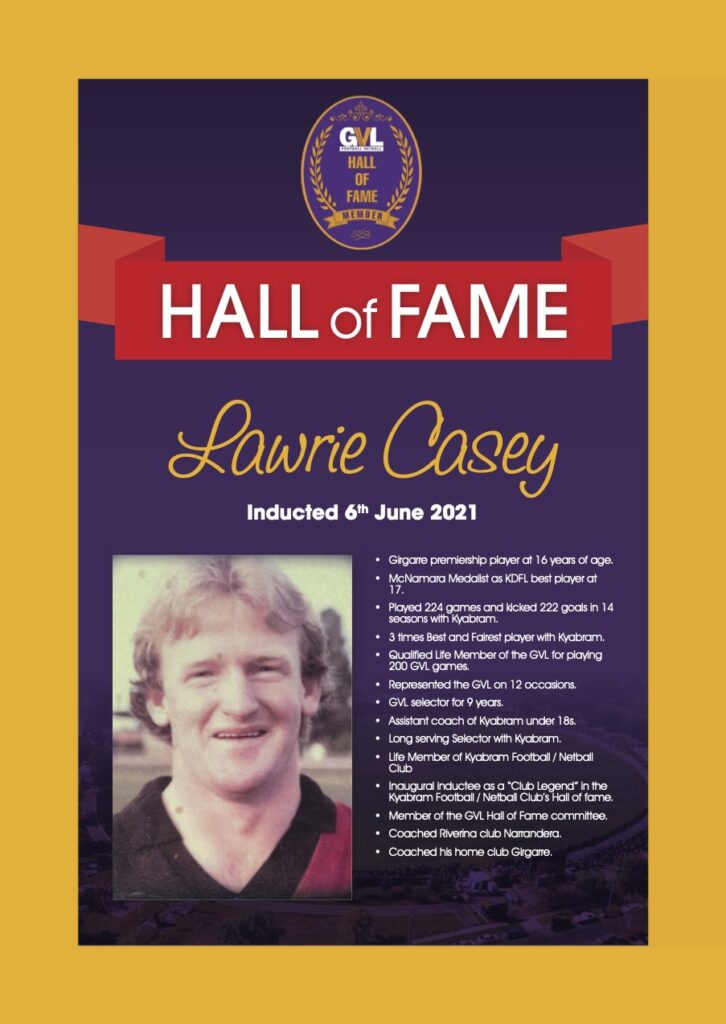 The Hall of Fame inducts a man who was not only a top player over a long period but loved football so much that he gave wonderful support to the GVL representative teams as well as his club following his playing career. It has been stated in the media that no-one has given more to the Kyabram club and he has been honoured as a club Legend.
Lawrie Casey announced his arrival as a champion player when he played in a premiership side with Girgarre as a 16 year old, then won the Kyabram and District League's best player award the McNamara Medal as a 17 year old.
Not surprisingly he was recruited by the Kyabram Bombers where he would become one of their best ever players. Over 14 seasons he completed 224 games and kicked 222 goals for the Bombers and coached the team. Lawrie was a very elusive player who read the game to perfection and was continually on the move. In an illustrious career he won the Kyabram best player award three times and coached the Bombers in 1988 and 1989. He also became a qualified Life Member of the GVL.
The League selectors chose Lawrie to wear the purple and gold colours on twelve occasions. He always performed well and was proud to be a GV representative player.
The only years he missed serving Kyabram was in 1984 when he had a year in England playing cricket, a sport he also excelled at. He also had a season playing with Essendon and district club Keilor, where he played in a premiership and won the Club best player award whist playing just eleven games. In 1990 he coached Riverina club Narrandera and in 1995 and 1996 he returned home to coach his home club Girgarre.
Lawrie was then lured back to Kyabram as chairman of selectors and team selector for 10 years.
Lawrie answered the call from the League to be a selector for the Country Championship team for 9 years. He has also been an assistant coach with Kyabram's under 18 team. Lawrie is a great student of the game who is familiar with the strengths and weaknesses of players and teams. With his wonderful football background and his obvious love of all aspects of the game Lawrie is recognised as a football tragic and is greatly valued as a member of the Hall of Fame Committee.