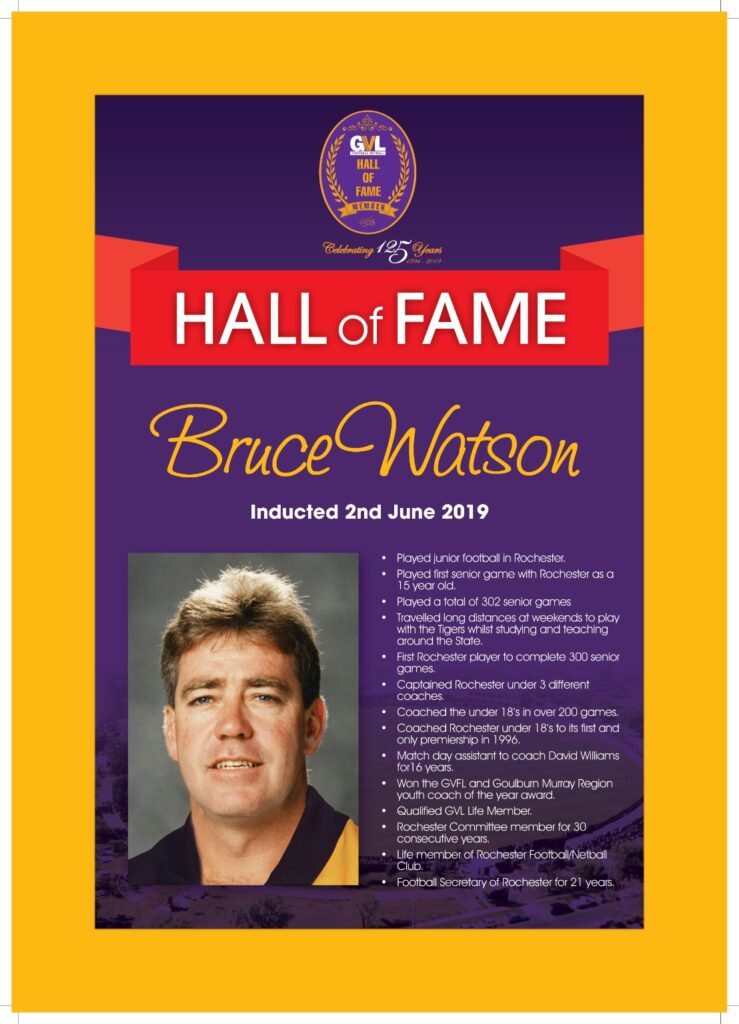 One of the interesting aspects of the GVL is the love of football portrayed by people within the League. People who are prepared to freely invest thousands of hours and a lot of effort to ensure that the League runs smoothly and successfully.
One of those people is Euroa stalwart Graeme – Better known as "Mick" Williams who has not just loved the game as a player and coach but has continued throughout his life to be involved as an administrator.
Mick grew up in Euroa at a time when a junior football competition did not exist, so he took on the role of boundary umpire for the Euroa team from 1956 until 1961 when he was old enough to get a game with the Seconds. He was elevated to the senior team in 1962. Mick just loved the Magpies, starting as a forward and centre man and as he got bigger in stature he played at Centre Half Back for the rest of his career. Euroa was at that time playing in the Waranga North East League and was a top side under the coaching of Ian Hughes, Bob Hempill and the legendary Dick O'Bree.
Mick was a member of 4 Euroa premiership sides in the Waranga League before a stint of two seasons coaching Avenel. He even coached Avenel in a winning game against Euroa. However he was back with the Magpies when they entered the GVL and won a premiership in their very first year in 1971. Mick played 50 games in the GVL before he felt he was nearing the end of his Major League playing career and he transferred to Benalla and District League club Longwood where he won the club's best player award twice and played in Longwood's premiership team.
On his retirement as a player Mick took on a coaching role at Euroa and at some stage coached 4 different junior teams in the one year. Mick especially loved coaching his two sons Gavin and Jeff who both played senior football with Euroa. He is very proud of the fact that 13 of the Euroa juniors he coached were to play together in the 1990 grand final team under Kevin Storer. Mick spent his working life with the Euroa Shire but made time to go back and help the magpies when he was able.
He took on the presidency of the Magpies in 1991, 92 and 93. He also acted as a Euroa delegate to the GVL for 3 years. That commenced an involvement with GVL administration which still continues today.
Mick acted as Junior Vice President for 3 years under Barry Connolly until the league structure changed and he was then appointed as a member of the GVL board of directors. When a second division of the League was formed Mick worked with Judy Pickering looking after that division.
He has been able to spend time in football due to the wonderful support he received from his wife Maureen who was also a great worker for Euroa, being president of the Ladies Committee.
Mick regards as a highlight of his football days as playing under Dick O'Bree who he regards as the best he has played with. He also says that Ian McRobert, Mick Peel and Bluey Jagoe were great men to play alongside.
He was awarded Life Membership of the Euroa Football club and the Euroa Juniors for his great support.
Mick is a great community man and after his retirement he became a councillor of the Shire of Strathbogie in 1997 and served 3 terms as Mayor. He still sits on the Council.
Tonight the GVL salutes Mick Williams as a player, a coach, a club administrator a GVL interleague official and as a League delegate for 5 years and a League board member for 23 years.
Graeme "Mick" Williams welcome as an inductee of the GVL Hall of Fame.