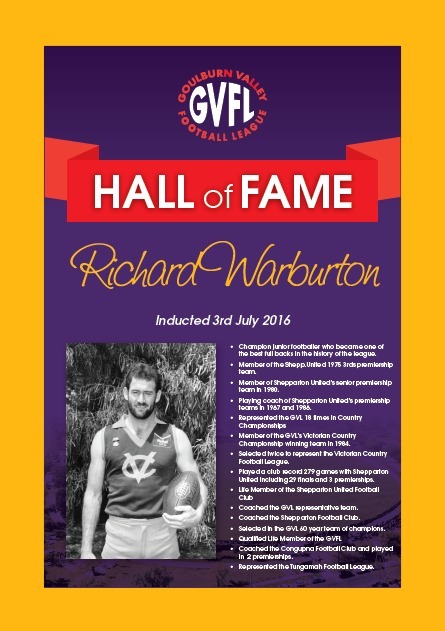 Our next inductee came to notice as a junior footballer with St. Coleman's College and Shepparton United. It was when he won selection in the Goulburn Valley Schoolboys team in 1973 that Richard Warburton became recognised as a potential full back of the future.
He became a top performer in the Shepparton United thirds under the coaching of former Geelong player Jim Hovey. He was a member of the United 3rds premiership team in 1975.
It was no surprise to see Richard select United as his club, as his father Dick had been a long time United supporter and a life member of the club. Richard entered senior ranks in 1976 whilst still eligible for the thirds and played under Mick Mulligan's coaching. In 1978 the GVFL selectors recognised his talent and he won a place in the GV Inter – league squad.
Warburton had developed into a champion United player. He was strong, a beautiful high mark and a very reliable kick. He was judged best afield at full back in the 1980 United Premiership team coached by Des Campbell. In the early 1980's he was chosen as captain of United and appeared in the 1984 and 85 grand finals.
Richard loved representing the GVFL in Country Championship football and he was a popular member of the GVFL team which won the 1984 state title. His performance for the GVFL was brilliant and he was chosen to represent the VCFL in 1984 and 85.
In 1986 Richard took up his first coaching position with the Congupna Football Club in the Tungamah Football League. He represented the League on two occasions.
However the call of his beloved United was too strong and he returned to the Demons as coach and had immediate success bringing premiership flags to the club in 1987 and 88. Richard was loved by his players and club members alike and he led by example. The players got right behind their coach and gave their all. However Richard switched his own playing position from full back to full forward and performed just as well at the other end of the ground. He was a wonderful kick and was United's top goal kicker from 1987 to 89. In one notable performance against Tongala in 1987 he played the first half of the game at centre half back and the second half at full forward kicking 13 goals in half of the game. That performance showed what a versatile player he was.
He retired as playing coach in 1990 due to work commitments but continued as a player. In 1991 he was lured back to Congupna where he had more success, winning premierships in 1991 and 93. He retired in 1994 but found himself back at United coaching the Reserves in 1996 and then as the Demons non-playing senior coach from 1997 to 1999 when his Demons lost to Rochester in the grand final.
Richard then spent 2 seasons away from on ground participation but joined the Demons committee. He was appointed coach of the GVFL Inter- League team which was defeated by the Ovens and Murray by 2 points.
In 2008 he was lured to the other end of Deakin Reserve as coach of Shepparton, a position he held for three seasons before he finally retired from football.
His sporting life continues on the golf course and the bowling green. He is currently Vice President of the Shepparton Golf Bowls Club.
Richard Warburton dedicated his life to performing well on the football field and became one of the true greats of the United club and the league. He reached the pinnacle of country football and will long be remembered as one of the top players in the league. His record speaks for itself and it is with great pleasure that we induct Richard Warburton into the Goulburn Valley Football League Hall of Fame.