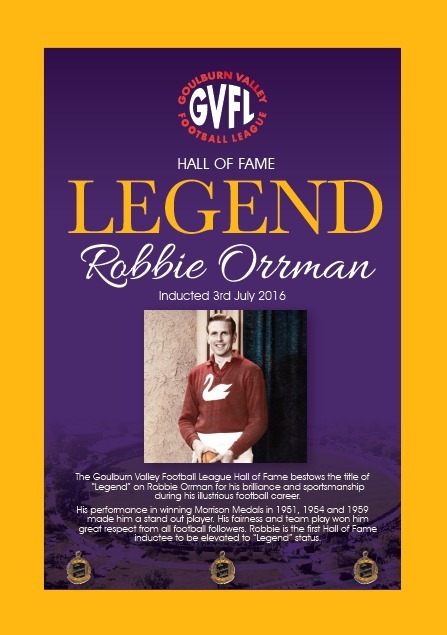 When the Goulburn Valley Football League instituted the Hall of Fame, One of the aspects of the Hall was to recognise special members from within the Hall by elevating them to the position of "Legend". The official Hall of Fame document provides for this special category of "Legends" to be selected from members of the Hall with only one Legend being inducted at any induction ceremony.
Legends will be chosen from former players who have had a significant impact on the GVFL through playing the game, GVFL Country Championship representation or coaching or administration involvement.
Legends will be persons who immediately come to mind when the people of the GVFL at the very pinnacle are discussed.
The Hall of Fame organising Committee is delighted to induct the first "Legend" chosen from the 16 members of the GVFL Hall of Fame at tonight's function.
One of the first members inducted into the Hall of Fame is tonight to have the title of "Legend" bestowed on him.
Throughout the 1950's the Shepparton Swans – then known as the Lemnos Football Club was based at the Shepparton Showgrounds. A tall blond athletic man could be seen crossing the road from his family's car dealership opposite the showgrounds to attend football training. His height and athleticism saw him develop into a magnificent player who over a period of ten years would win three Morrison Medals as the best player in the League.
Football fans marvelled at Robbie Orrman's ability to rise above the packs and palm the ball directly to his team mates, giving the Swans first use of the ball. He was a wonderful mark and long kick. He dominated the ruck and played a significant role in the Swans 1959 premiership. He was a great team player and won his first Morrison Medal in 1951, his second in 1954 and his third in the Lemnos premiership year of 1959.
In 1956 he was chosen along with other Shepparton athletes to carry the Olympic torch on its journey through Shepparton to the Melbourne Olympic Games.
One of the greatest aspects of Robbie's football career was his fairness. His quiet disposition and fair play made him a most popular player. He also performed magnificently in GVFL Country Championship teams. His brilliance all over the ground made him a truly stand out player. He won the Swans Best Player award on six occasions. Robbie was loved by everyone at the Swans and greatly respected by all football followers. The Swans honoured him with legend status at their Club, and tonight the GVFL recognises this thorough gentleman and great sportsman Robbie Orrman as the first "Legend" in the GVFL Hall of Fame.