Scott Watson - 2021 Inductee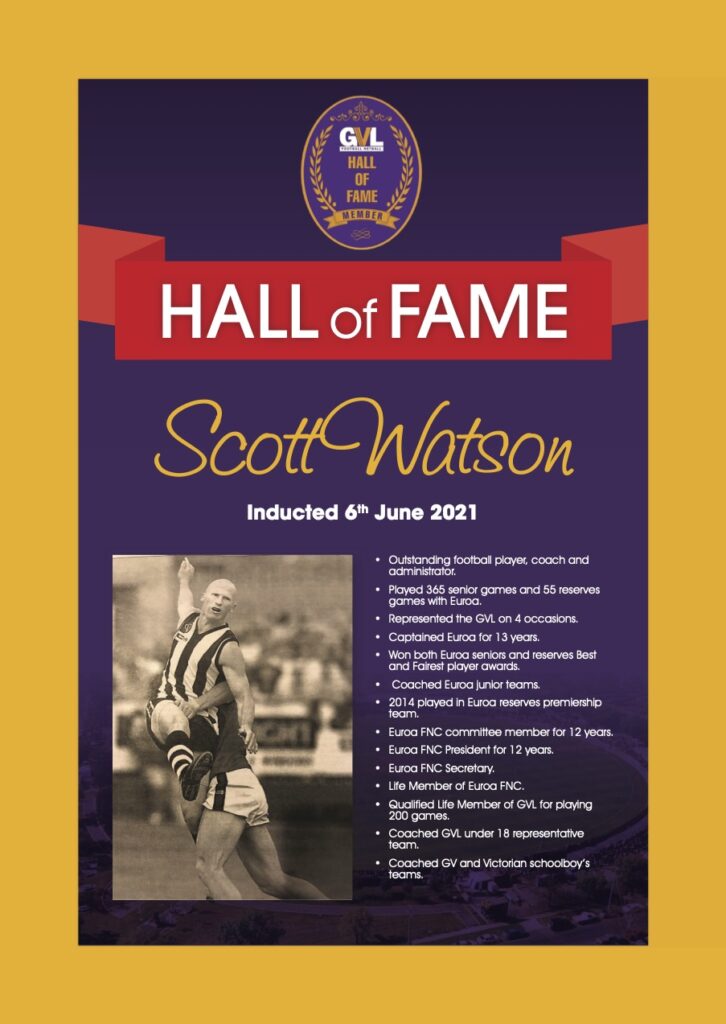 When telling the story of inductees into the Hall of Fame, their football background usually starts with them being a top player in junior football.
Our next inductee didn't play junior football and didn't discover competition football until he was 21 years old. Scott Watson grew up in Melbourne and played both soccer and basketball as a youth. He became a physical education teacher and was posted to the Euroa Secondary College in 1991.
His entry into football was when he was asked to have a kick with the Longwood Football Club. He really enjoyed the football and spent 2 seasons with Longwood.
In 1993 he transferred to Euroa Club and commenced an amazing career with the magpies as a player, coach and administrator for over 30 years.
He was a natural and soon developed into a star player. He played mostly as a centre half back or full back. Scott used his fitness and class to fill a much needed roll in the back line. The Magpies were delighted to attract such a quality player into their club.
The GVL selectors noted his talent and he was a League squad member for many years. He represented the League on 4 occasions. In 1998 Scott was invited by the League to coach the GVL under 18 representative team, a task he took on with great enthusiasm.
The magpies installed him as their senior captain, a position he held for 13 years including a grand final appearance in 2005.
He won the Magpies best player award and was runner up 3 times. The name of Scott Watson appeared in Euroa teams year after year and on playing his 200th senior game he became a qualified Life Member of the GVL. He concluded his senior playing career with his 365th senior game.
Scott loved the game so much that he continued on with the reserves team and played 55 reserves games. At age 44 in 2013 he won the reserves best player award. In 2014 came a highlight of his football career, as a member of the Euroa reserves premiership team.
Apart from playing the game, Scott has served on the Euroa committee for 12 years, He has also been President of the club for 12 years and has helped out as Secretary for 5 years. He has also coached multiple junior teams at Euroa.
It is no surprise that he was awarded Life Membership of Euroa.
Outside the club he has coached the Victorian Under 15 Schoolboys football team and the Goulburn Murray Under 15 Schoolboys team.
It has been an amazing football life for a man that didn't start playing the game competitively until he was 21 yet amassed a total of 420 games and then supported the club asministration.
The GVL recognises his magnificent dedication to the game and inducts Scott Watson into the GVL Hall of Fame.