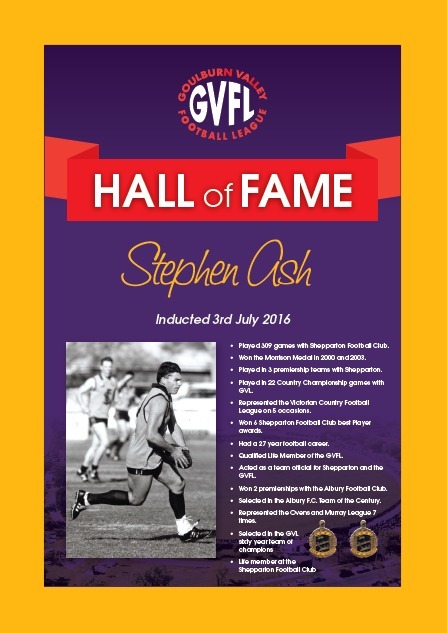 Our next inductee is a man who joined the Shepparton Football Club after his initial club, Invergordon had ceased to exist. Stephen Ash had joined his local club Invergordon as a chubby junior and played his first senior game at 15 years of age. When his club folded he decided to try his luck in the GVFL and in 1988 Shepparton coach Xavier Tanner welcomed the shy 18 year old lad into the Bears camp at Deakin Reserve. Stephen was very enthusiastic and soon showed that he had great all round ability which would see him progress to become one of Shepparton's best ever players. His talent was soon recognised by the GVFL selectors and he proudly wore the purple and gold GV jumper in inter – League games. He was a standout player in the GVFL's State championship win under Graeme Weatherly. His performance won him selection in the Victorian Country team.
Over the next few years he stood out as a dedicated player who gave his all for his club. 1993 saw his first premiership in football when he was best afield in a Grand Final that saw his team mate Adam Houlihan kick the winning goal after the final siren. He tasted success again in 1994 as a member of Shepparton's premiership team under Rod McPherson.
After 8 seasons at Shepparton he was lured interstate for the next two years with the Albury Tigers. He played in two premierships in 1966 and 97 with Albury under Paul Spargo, represented the Ovens and Murray League and the VCFL, and in the process, matured greatly as a player. Stephen felt that he learned a lot during that two years stint with Albury.
He returned to the Shepparton Bears in 1998 and became the backbone of the team. Interestingly he was a member of the GVFL representative team which defeated his former League – the Ovens and Murray League.
The 2000 season was a big one for Stephen when his Shepparton team won the premiership after Stephen was presented with the League's best player award, the Morrison Medal on the arena before the game. He was presented with his medal by the League President, his Father in Law, Barry Connolly. Stephen's wife Jo was so proud as she joined her sister Jenny as a wife of a Morrison medallist. Jenny's husband Peter Foott had won the medal in 1992.
Stephen's good form continued as he played his heart out for Shepparton week after week and continued to represent the League. In 2003 the umpires again judged Stephen to be a champion when they voted him the best player in the League as he won his second Morrison Medal. He continued his love of championship football and represented the League with distinction. Life was busy for Stephen as he worked long hours on his property yet still made time to play the game he loved.
After the 2005 season he decided to retire from playing after amassing 309 games with Shepparton. However he couldn't keep away from the game and continued to be involved as a runner with Shepparton and the GVFL. He is still involved in the game as his boys are now involved in junior football.
Stephens's brilliance sustained him through his wonderful career. His record speaks for itself: 5 premierships and 309 games with Shepparton, 6 Shepparton Club Best and Fairest awards, 29 representative games, 2 Morrison Medals. 3 state championships, 2 Albury premierships, 5 appearances for Country Victoria, selected in the Albury team of the Century, the GVFL team of 60 years and has had a perpetual trophy struck in his name along with an Ovens and Murray player. Games between the GVFL and the O&M are now played for the Ash/Wilson Trophy.
Tonight we celebrate the amazing football career of one of the most popular players in the Goulburn Valley. We salute Stephen Ash and induct him into the Goulburn Valley Football League's Hall of Fame.