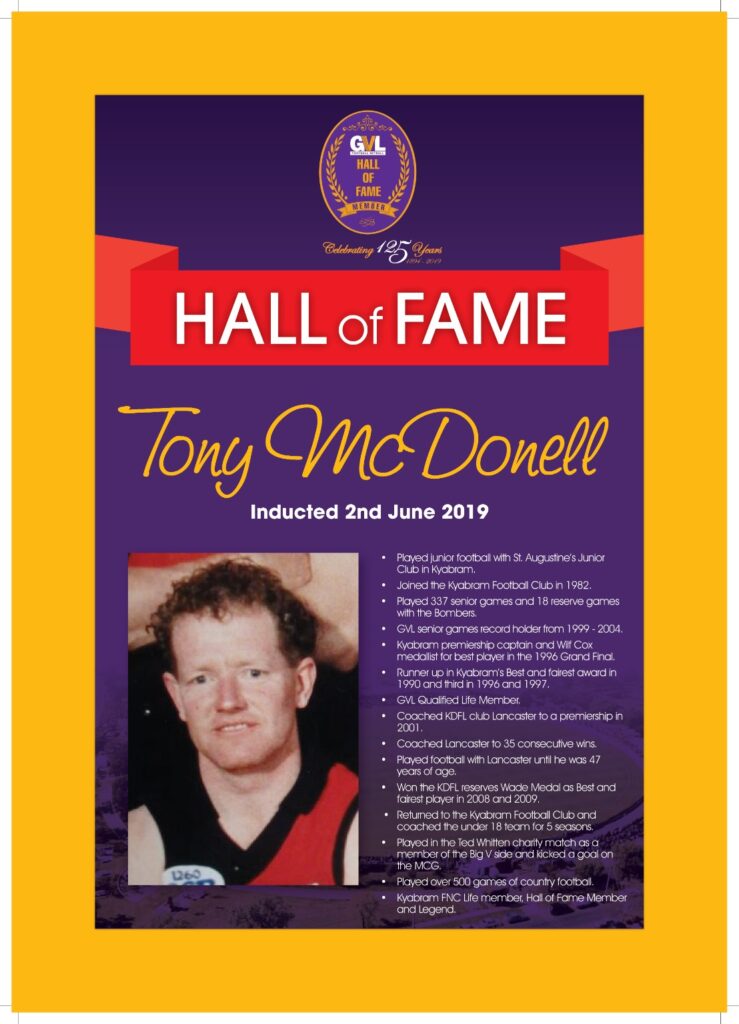 A player affectionately known as "Rusty" is to be inducted into the Hall of Fame due to his wonderful contribution to GVL football and the Kyabram Football Club. He spent 25 years with the GVL Bombers as a player, Coach and selector after commencing his career with the St. Augustines Junior Football Club under 13s
In 1982 Tony played his first senior game with the Kyabram senior team which would eventually lead to him to play a total of 337 senior games and 18 Reserves games between 1982 and 2000. He kicked 70 goals during that time.
Rusty loved football and dedicated himself to keep fit and turn out with his home town Bombers every week. He was such a strong player who was never ruffled and was always cool, calm and collected.
At one stage he was the GVL senior games record holder.
He was a superb kick and played a lot of his football, particularly in later years as the designated kicker from full back where his deadly accuracy was legendary.
Rusty can proudly boast that he was a Kyabram premiership captain, leading the Bombers to a GVL drought breaking flag win over Tatura in 1996 under Coach Peter White.
Surprisingly he didn't win a Kyabram Best and Fairest but he was runner up in 1990 and third in both 1996 and 1997.
Tony's days as a player at Kyabram ended when he took on the coaching role at Lancaster in the KDFL. Following his 337 senior GVL games he spent 9 seasons with Lancaster, including coaching a premiership in his first year as coach. At one stage he coached Lancaster to 35 consecutive wins. His playing career at Lancaster continued until he was 47 years old. He played in Lancaster's Reserves premiership team in 2007, winning the Wade Medal as best player in the KDL Reserves in 2008 and 2009 along with his club best player in 2009. Another highlight in his illustrious career was being a member of the Big V side in the annual Ted Whitten charity match in which he kicked a goal on the famous MCG.
Following his playing days at Lancaster "Rusty" showed his love for the game when he returned to his beloved Bombers as coach of the under 18 team for 4 years before stepping down from the role at the end of the 1917 season.
There is something special about a person who is able to continue on with the sport he loves following a great career in a major League and support the game at minor League level for many years before passing on his well-earned skills to the up and coming players in the GVL 3rds competition.
The GVFL recognises the wonderful contribution "Rusty has made to both the game and the League and is proud to induct him into the GVL Hall of Fame.