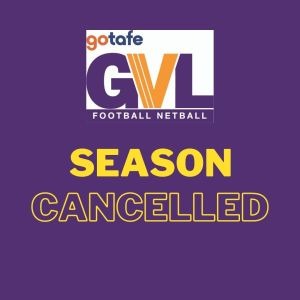 GOTAFE GVL Premiership Season 2021 Over
The GOTAFE Goulburn Valley League (GVL) has made the difficult decision to cancel the 2021 finals series for all grades of football and netball. This decision has not been made lightly with the growing COVID-19 case numbers across Regional Victoria, particularly in the Shepparton outbreak, a major influence in the decision.
During the current pandemic, the GVL's number one priority has continued to be the health and wellbeing of its supporters, players, umpires, officials, partners, volunteers and committees and everyone across all our local communities.
The GVL Board and Presidents of all twelve of its member clubs met on Monday night to discuss the finals series for 2021. At that meeting, almost half of the clubs were of the opinion that the season was over. Several other clubs indicated that they would like to wait another week or two before a decision was made but conceded that the season was more than likely over.
GVL Board Chairman David Roff said, "This is not a decision we have made lightly. The inability of metro-based players to travel, as well as NSW restrictions placed significant strain on clubs in terms of player availability for games played on 14 August. The announcement last week of a lockdown across Regional Victoria saw the Board make the decision to cancel the remaining two rounds of the home and away season."
Mr Roff continued by saying, "The current outbreak in Shepparton has seen a number of schools, both secondary & primary, listed as Tier 1 exposure sites and has put entire households into 14-day home isolation. There are now also confirmed cases in regional Victoria. This causes an even more substantial impact on players as well as officials at multiple clubs across the League as there is now over a third of the region's population in isolation across the Goulburn Valley region. Two Presidents are currently in 14-day quarantine, as is League Operations Manager Jo Spencer."
Mr Roff also said, "We recognise the potential health implications within our communities, the financial burden of the shortened season and no finals to both our clubs and the League. The growing case numbers are making the easing of restrictions on 2 September highly unlikely and even if restrictions were to ease, we could quickly find ourselves back in another snap lockdown which could see finals further impacted. Further to that, we are still a long way off spectators being allowed back at games. We ultimately had to make the call-in order to provide clarity to everyone at all of our clubs."
The Board agreed that given the challenges presented this year, and how hard all clubs had worked through a season interrupted by COVID, that Premiers would be acknowledged. Ladder leaders in each grade will be declared Season 2021 premiers as follows:
| | | | |
| --- | --- | --- | --- |
| NETBALL | | FOOTBALL | |
| A Grade | Shepparton United | Seniors | Echuca |
| B Grade | Echuca | Reserves | Echuca |
| B Reserve | Shepparton United | Under 18's | Echuca |
| 17 & Under | Shepparton United | Under 16's | Echuca |
| 15 & Under | Shepparton | | |
The Morrison and Wellman Family Medal Night will not be held in person and will move to an online broadcast at a time and date to be advised.
GVL Operations Manager, Jo Spencer said, "This is an extraordinary situation that is complex and constantly evolving and whilst we are disappointed, we know that we have made the best decision for our communities. The GVL understands that this continues to be a trying time for everyone and would like to take this opportunity to thank all our club volunteers, club executives and committees, players, community members, our valued partners and AFL Goulburn Murray for their patience and ongoing support as we navigate through these unprecedented times."
Stay strong and stay safe as we look towards Season 2022.